Mike Napoli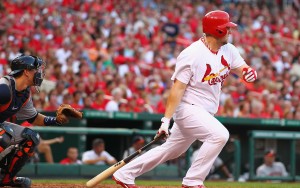 Garion Thorne is joined by Cory Schwartz, Vice President of Statistics for MLB.com, to analyze the waiver wire heading into Week 10 of the fantasy baseball season. Josh Tomlin has won 77% of his starts in 2016, but can he be trusted with a permanent roster spot? Will the Rangers be able to find a place for Jurickson Profar when Rougned Odor returns from suspension? Is Matt Adams finally getting enough playing time in St. Louis to warrant consideration? Finally, is it time to consider cutting ties with Mark Teixeira and, if so, is Mike Napoli a possible replacement? Find out on this episode of "The Rotation: Going Deep".
Baseball
The Rotation
Video
More
by
FNTSY
| 5:57 pm, May 25th, 2015
On today's show, Chris Meaney and Corey Erdman discuss whether or not Fantasy Baseball players should target L.A. Dodgers SP Mike Bolsinger off the waiver wire. Then the two talk about Boston 1B Mike Napoli, is he worth an add?
Baseball
Fantasy
MLB
Video
More