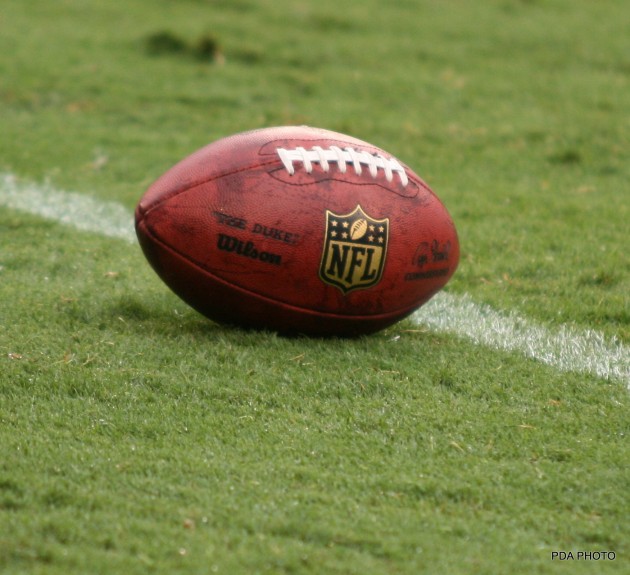 FANTASY FOOTBALL – Week 9 Bye Replacements: Targeting Travaris Cadet
Football
NFL
**All Bye Week Replacements are owned in less than 50% of leagues**
Quarterbacks
On Bye: Matt Ryan (ATL), Jay Cutler (CHI), Matthew Stafford (DET), Kyle Orton (BUF), Aaron Rodgers (GB), Zach Mettenberger (TEN)
Alex Smith (KC) vs. NYJ
Brian Hoyer (CLE) vs. TB
Ryan Fitzpatrick (HOU) vs. PHI
Robert Griffin III (WAS) @MIN
Teddy Bridgewater (MIN) vs. WAS
Choosing between Alex Smith and Brian Hoyer is really a matter of knowing how you like to play fantasy football and the overall construction of your team (also your ability to forgive Hoyer for laying a massive egg in Week 7). Honestly there couldn't be two more diametric quarterbacks. Smith has been exactly as advertised in 2014. Not only does he have the highest true accuracy of any QB in football at 82.7%, but he's also quietly racked up 162 rushing yards through seven games – the sixth best total positionally. The former first overall pick is easily one of fantasy's most consistent performers, which, again, depending on how you play, is a double-edged sword. Smith won't carry your squad to victory, but he also seems incapable of destroying your week either – something Hoyer seemed to take pleasure in doing two Sundays ago in Jacksonville. The Browns pivot completed just 39% of his passes (16 for 41) on his way to roughly five points in standard formats. This is Hoyer's main issue: He's incredibly inaccurate (unless he's throwing 20+ yards where he still leads the NFL with a 56.6% completion percentage). Only Nick Foles has a lower true accuracy than Hoyer's 68.7%, however what he lacks in poise, he more than makes up for in potential big play ability. The former Spartan leads football in both Yards in Air percentage (62.9%) and aDOT (10.4) – categories where Smith ranks dead last. In fact, Smith's 5.8 aDOT is a full yard and half lower than the next closest QB, Russell Wilson. Both have amazing Week 9 match-ups, Smith taking on a Jets team that has surrendered the most fantasy points to QBs and 20+ points to the position the past five weeks, while Hoyer faces the Bucs who have given up the sixth most points to quarterbacks and have the third lowest time of possession of any team in the league at 27:09 minutes per game (a putrid 18.2% third down conversion rate the past three weeks obviously doesn't help). I think Smith edges Hoyer in the rankings, but if you're without a Julio Jones or Alshon Jeffrey and need to swing for the fences, it's a very tough call.
Runningbacks
On Bye: Steven Jackson/Antone Smith (ATL), Matt Forte (CHI), Joique Bell/Reggie Bush (DET), Anthony Dixon/Bryce Brown (BUF), Eddy Lacy/James Starks (GB), Bishop Sankey (TEN)
Bobby Rainey (TB) @CLE
Travaris Cadet (NO) @CAR
Jonathan Stewart (CAR) vs. NO
DeAngelo Williams (CAR) vs. NO
Jonas Gray (NE) vs. DEN
When you essentially are using a three runningback set-up, the very least you can do is establish clear and defined roles to make it easy for fantasy owners. So while yes, it is very frustrating for Mark Ingram owners that, barring injuries, he's splitting carries and snaps with the Pierre Thomases and Khiry Robinsons of the world, it at least makes for straight-forward comparisons when Travaris Cadet comes into the fold. We all knew where and how Cadet would be utilized in the absence of Thomas, but it's been his overall usage that's been somewhat concerning. The undrafted RB has caught ten passes his past two games, capitalizing on the seventh most backfield targets (11) of anyone in the league over that time. Still, where Thomas was playing roughly 35-40% of Saints offensive snaps, Cadet has played just 23.6% in Weeks 7 and 8 – though the fact that 91.1% of these snaps are passing plays and on 35.5% of those Cadet was the primary target helps a great deal. To put the Saint in to your lineup is to rely a great deal on maximizing a very small opportunity, but he does have a fantastic match-up Thursday against the Panthers. Much of Carolina's surrendering of the third most fantasy points to RBs in PPR formats is tied to their allowance of 135.8 rushing yards per game, but they also give up the fifth most targets to runningbacks at 7.9 per game. There will be RBs who get more touches, yet few with a more defined role.
Wide Receivers
On Bye: Julio Jones/Roddy White (ATL), Brandon Marshall/Alshon Jeffrey (CHI), Calvin Johnson/Golden Tate III (DET), Sammy Watkins/Robert Woods (BUF), Jordy Nelson/Randall Cobb/Devante Adams (GB), Kendal Wright/Justin Hunter (TEN)
 Andrew Hawkins (CLE) vs. TB
Brandon LaFell (NE) vs. DEN
Malcolm Floyd (SD) @MIA
John Brown (ARI) @DAL
Martavis Bryant (PIT) vs. BAL
Riley Cooper (PHI) @HOU
Allen Robinson (JAC) @CIN
Jordan Matthews (PHI) @HOU
Donte Moncrief (IND) @NYG
Markus Wheaton (PIT) vs. BAL
Now, while I'm no where close to believing that Ben Roethlisberger will come close to setting the NFL record for passing yards in a game every week, there were definitely some trends to be mined from Sunday's contest against the Colts – the main one being that Martavis Bryant is legit. In his two games so far this season Bryant ranks first on the Steelers in DABWOLTTIE (Discounting Antonio Brown Who Obviously Leads This Team In Everything) circumstances for targets (12), yards (123), and touchdowns (3), where he actually does have more than Brown. The Clemson product also has the seventh highest aDOT of any WR with at least five targets over Weeks 7 and 8 at 20.8 and he's put up the most points per route run of anyone at 0.82 in standard leagues. Even with the touchdowns being a clear aberration, the usage is up and, maybe most importantly, his 33 snaps against Indianapolis were just one fewer than Markus Wheaton's 34. Specific to this weekend, the Ravens also present a very nice match-up for Pittsburgh's wide out group. Baltimore has given up the sixth most fantasy points to WRs in PPR formats through eight weeks in 2014 including the third most yards and the second most receptions overall. Plus, according to DVOA, while the Ravens' secondary ranks tenth in defending wide receiver ones, in this case Brown, they rank 19th and 20th respectively against receiver twos or slot guys – this with recently injured cornerback Jimmy Smith healthy. It'll take a top waiver priority or a decent FAAB chunk with his recent performance, but there isn't a WR on the wire with more upside than Bryant.
Defenses/Special Teams
On Bye: Atlanta, Chicago, Detroit, Buffalo, Green Bay, Tennessee
Washington @MIN
Cleveland vs. TB
Jacksonville @CIN
Tampa Bay @CLE
San Diego @MIA
Just like that, it was over. Gone are the days where the Jaguars' opponent happened to be a defense available on the waiver wire, but instead of mourning, let's choose to remember the good times – like, you know, two days ago when they allowed 28 points and two defensive touchdowns to the Dolphins. Still, there's little time to lament, not when a very viable Redskins D is prime for a pick-up. Washington travels to Minnesota on Sunday, to take on a Vikings team that has allowed not one, not two, but three different defenses to hang 20+ points in a week. For the year they've surrendered the fifth most fantasy points to opposing DSTs and their recent 31.1% conversion rate on third down the past three weeks don't really bode much change. Also, ironically, the Jaguars defense might actually be a solid play Week 9. Cincinnati has allowed an average of 8.75 fantasy points to DSTs in their past four contests while Jacksonville ranks second in the NFL with an impressive 25 sacks.