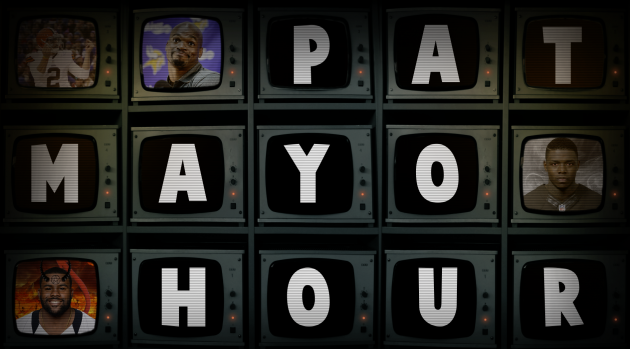 2015 FANTASY FOOTBALL – Final QB Rankings
by
Pat Mayo
| 5:00 am, September 5th, 2015
Football
NFL
Video
2015 FANTASY FOOTBALL – Final QB Rankings
FNTSY Sports Network's Pat Mayo, Garion Thorne and Tim Anderson react to the news Tom Brady will not be suspended 4 games and be eligible to play in Week 1 against the Steelers. The guys assess where Brady now ranks in the 2015 QB Rankings and when you should draft him…
Daily Fantasy sites will be offering more money to win in 2015 than ever before. So, sign up for DraftKings and FanDuel NOWWWWW, receive a FREE  SIGNUP BONUS, get familiar with the gameplay and WIN BIG!!!
Mayo's 2015 Final QB Rankings (4pts/TD)
BENCHED: NOT GREAT, BOB… Griffin III
Andrew Luck
Aaron Rodgers
Drew Brees
Peyton Manning
Russell Wilson
Cam Newton
Tom Brady
Ryan Tannehill
Teddy Throwsevelt
Tony Romo
Sam Bradford
Matthew Stafford
Hello Joe Flacco
Smoking Jay Cutler
Ben Roethlisberger
Matt Ryan
Carson Palmer
Colin Kaepernick
Eli Manning Face
Jameis Winston
Blake Bortles
The FITZMAGIC
Andy Dalton (me me me me me)
Marcus Mariota
Tyrod Taylor
Derek Carr
Alex Smith
Nick Foles
Kirk Cousins
Mr. Jonathan Football, Esq.
TIM TEBOWWWWWW!!!!!!!!!!!
Ryan Mallett
Robert Griffin III
Jimmy Garoppolo
E.J. Manuel
Josh McCown
Macho King Tom Savage
Best Broken Jaw
Geno PICKS!!!!!
The Pat Mayo Hour covers the entire scope of the Fantasy sports landscape from football to reality TV, daily and yearly leagues and everything in between. You can watch the Pat Mayo Hour every weekday at 4:00pm EST & 6:00pm EST on FNTSY Sports Network. If you have a Fantasy question, general inquiry or snarky comment, ship it to Mayo at PatMayoHour@gmail.com and the best will be addressed on the show.