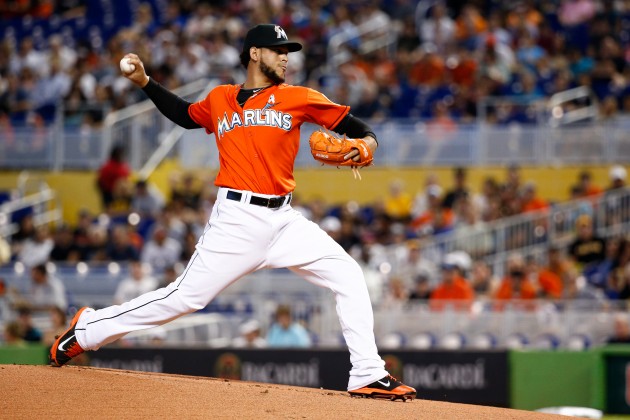 FANTASY BASEBALL – Starting Pitcher Stream Rankings, June 20
by
FNTSY
| 4:37 pm, June 19th, 2014
Baseball
Fantasy
MLB
Video
Maximize your Fantasy pitching values with FNTSY Sports Network's Pat Mayo and Garion Thorne's Starting Pitcher Stream Rankings for Sunday, June 20.
Read Garion's Full Stream Power Rankings Column Here
PITCHER STREAM RANKS: FRIDAY, JUNE 20TH
Henderson Alvarez (32%) vs. NYM
Jaime Garcia (25%) vs. PHI
Jarred Cosart (6%) @TB
Charlie Morton (20%) @CHC
Daisuke Matsuzaka (10%) @MIA
Edwin Jackson (3%) vs. PIT
Brandon Workman (7%) @OAK
Ubaldo Jimenez (32%) @NYY
Marco Estrada (46%) @COL
Hector Noesi (1%) @MIN
As a Top 50 starting pitcher coming into the season, I would't blame you for taking a look at Marco Estrada this week after his ownership numbers plummeted under 50%. Normalization is coming for the Brewer, but that's something not normally found in Colorado. That is to say, Estrada might rather play in the laundry room than at Coors this Friday. The 23 home runs he's allowed in 2014 are already a career-high. His 5.92 FIP is the highest in the league by over three tenths of a run and that's even with the sixth lowest BABIP in all of baseball. It's been rough. Now, Estrada won't continue to give up long balls at this rate, his HR/FB ratio of 18.7% is well above both the league and his career average, but even with regression his numbers aren't in line to get significantly better. Estrada has the lowest ground ball rate is the National League at just 33.9% – meaning both his fly ball and line drive rates are inflated accordingly. Yes, you're more likely to get a base hit on the ground, but extra base hits are accumulated in the air, which is more than evident when you take a look at the opponent ISOs on Estrada's individual pitches with all three offerings – his fourseam, change, and slider – surrendering rates above .244. Is Estrada a player to watch? Sure. But there might not be a worse match-up this week in baseball.