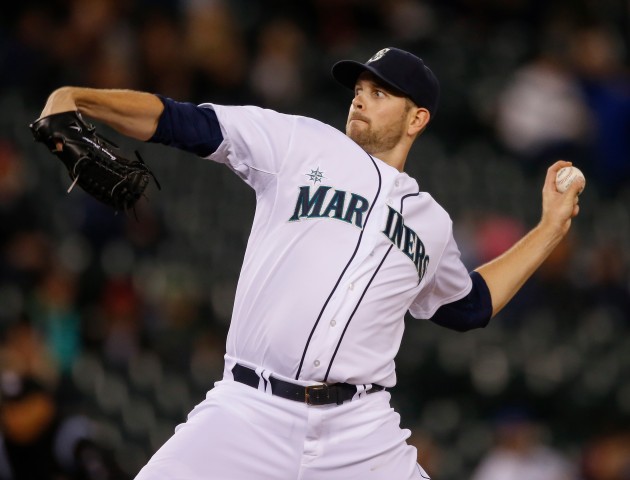 FANTASY BASEBALL – Starting Pitcher Stream Rankings, August 15th
Baseball
MLB
Video
Maximize your Fantasy pitching values with FNTSY Sports Network's Garion Thorne and Chris Meaney's Starting Pitcher Stream Rankings for Friday, August 15th.
Read Garion's Full Stream Power Rankings Column Here
GARION'S PITCHER STREAM RANKINGS: THURSDAY, AUGUST 14TH (Y! Ownership)
Brandon McCarthy (37%) @TB
James Paxton (32%) @DET
Clay Buchholz (36%) vs. HOU
Charlie Morton (21%) @WSH
Ubaldo Jimenez (26%) @CLE
Trevor Cahill (2%) @MIA
Travis Wood (25%) @NYM
Jimmy Nelson (14%) @LAD
Trevor May (0%) vs. KC
Unlike his Arizona counterparts, Trevor Cahill actually has an arsenal conducive to pitching at Chase Field. The only Diamondback starter with a league average HR/FB ratio at 9.1%, the veteran has leaned heavily on his sinker throughout his career to maintain a 54.9% ground ball rate – key in limiting the damage chronic control issues have caused. Still, that doesn't mean he hasn't been unlucky in his own, unique ways. Cahill would not only have the league's highest opponent BABIP, had he the innings to qualify, at .346, but he would also have its lowest strand rate at a microscopic 62.8%. The biggest factor in this fortune is the quality of contact opposing batters are producing versus the former Athletic in 2014. Cahill, who had never seen hitters put together a line drive rate higher than 20% in his career, is now dealing with a 24.5% figure – even though his contact rate of 72.9% is easily the lowest of his career. Essentially, batters facing Cahill are making less contact, but somehow are producing better numbers. This trend and the near 37% line drive rate opponents are hitting Cahill's change-up at will not continue. They just can't. It actually seems normalization has already begun if the Arizona pitcher's latest three starts are any indication. Cahill has just a 2.70 ERA in his past 20 frames while, maybe most importantly, he's walked just 1.35 opposing hitters per nine. Stick with a hot commodity – start Cahill in Miami.