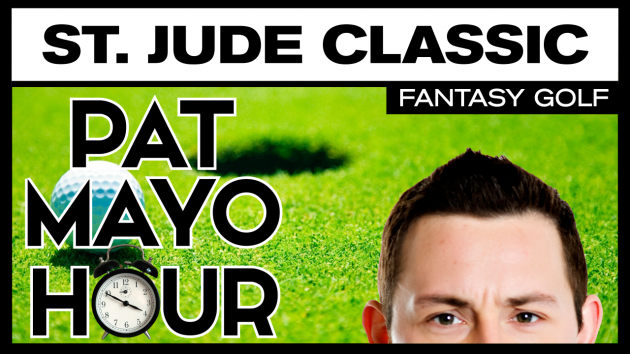 FANTASY GOLF – St. Jude Classic Picks & Preview
Golf
More
PGA
Video
St. Jude Classic
Defending Champ: Fabian Gomez
FNTSY Sports Network's Pat Mayo and and Geoff Fienberg debate their St. Jude Classic picks and the week in betting at this week's PGA Tour stop at TPC Southwind.
St. Jude Classic Field
156 Players | Top 70 & Ties Make The Cut
Being just a week out from the year's second Major has most of the golfing world, at least the elite talents, siding with an extra week of US Open prep in lieu of making a pit stop in Memphis. While the St. Jude Classic is a terrific event, combined with a great cause, the unfortunate scheduling leaves an incredible a diluted field, one of the year's most talent stricken. Phil Mickelson and Dustin Johnson typically attend, and this year's no different. They, along with Brooks Koepka, are the only golfers inside Top 20 in the world rankings. After that trio, the next highest ranked player is William McGirt, who just valued from No. 102 to No. 44 with his win at Memorial. McGirt withdrew. One career win and now he's too much of a big shot show up. Daniel Berger becomes the fourth highest ranked played in the field at No. 46.
There's an interesting second-tier of talent featuring Berger, Ryan Palmer, Harris English, Ryan Palmer, Luke Donald, and Gary Woodland, however, in a full-field of 156 players, the skill level craters off rather quickly.
Web.com Tour rookie sensation Wesley Bryan will be making his PGA TOUR this week too.
Strokes Gained: Approach
Par 4 Scoring
Ball Striking
Good Drive Percentage
Scrambling
St. Jude Classic Course
TPC Southwind | Par 70 | 7,239 Yards
It's easy to point to the schedule as the primary reason no one shows up to the St. Jude Classic, that, or they simply hate sick kids, but it could be the course. TPC Southward is hard. It's not difficult in the US Open sense of, "this rough is so thick, if I can advance the ball 30-yards, I'm good with that." No, it's more of, "Oh fuck, my ball's in the water again" tough. Since the 2004 overhaul of the layout, 4000+ balls have ended up in the water. TPC Southwind gets the players wetter than Khloe Kardashian at an ESPYs afterparty. Just ask Robert Garrigus, even his pants ended up drenched in aqua.
Despite accuracy seeming like the go-to stat, a list of the past winners doesn't reveal any one particular skill-type to target. Accuracy from the tee box should give players the best chance to make the cut, but scoring, especially on the Par 4s, will conquer the leaderboard. Most of that scoring will be fueled by gaining strokes on the field on approach shots. I understand that can be said for any course, but with the greens at TPC Southwind being some of the tiniest on TOUR, finding the putting surface will be more valuable than usual. Yes, with the dearth of talent in the field, a 200/1 long shot can most definitely win; loading up on the top-end players wherever you can will prove to be the wisest Fantasy strategy, though.
St. Jude Classic Picks
Dustin Johnson – DraftKings players still haven't erased DJ's crippling 2015 withdrawal from their minds yet, but it would be hard to argue he's not the safest player in the field. The 2012 champ has yet to miss a cut this season, a run which has seen him finish inside the Top 20 all but twice in 12 starts.
Phil Mickelson – Phil has been a fixture on the leaderboard in Memphis the last three years. Unfortunately, his penchant for a wayward tee shot (or five) has left him off the top of the podium. However, with no finish worse than T11 in that stretch, and Lefty having his best season in some time, he's an easy add to the roster.
Brooks Koepka – With his ability to club down, and hit the ball accurately, it's not a shock to discover Brooks has played his most consistent golf on Par 70s with tough-to-hit fairways. He appeared to be ready to claim his second career win on this site a year ago, cruising into the weekend as the 36-Hole leader, but a 71/70 had him finish in a tie for third. With his putting stroke ascending (40th SG: Putt) and Par 4 scoring among the best in the world (6th, Par 4 Birdies or Better), Brooks should sleepwalk his way to a Top 15. If he decides to wake up, he'll probably win.
Ryan Palmer – Palmer's made each of his last four cuts at TPC Southwind and enters in solid form, sans one water ball at the Byron Nelson which had him miss the cut on the number (T3/MC/T23/T4). He's always more comfortable on Bermuda greens and, like Brooks, relishes the chance to take some distance off the ball to ensure a safe landing. The flat stick is always going to be problematic, that's a given; still, his tee-to-green game (28th), birdie rate (18th), accuracy from 150-175 yards (31st) will give him ample opportunity to contend.
Colt Knost –  Knost has played 18 events in the 2015-16 season, he's missed just one cut. That screams safety, more so at a course where his deadly accuracy (2nd) will keep him out of danger. He has two T15s in his past three trips to Memphis and is currently in the midst of the best run his career – T67/T4/T3/T41/T14.
Harris English – The last time we saw the 2013 champ on the links, he was getting run over by Jordan Speith on the back nine in Dallas. It happens. Still, backing Harris at Par 70s is generally the smart play (23rd in Par 70 performance since 2014; 0.928 strokes gained per round). As one of the TOUR's worst players off the tee, English's accuracy drastically improves at the shorter courses, allowing his solid game everywhere besides the tee fuel birdies: 12th SG: Putt, 44th SG: ATG, and 61st SG: Approach. The closer he gets to the hole, the better he gets.
Brendan Steele (Withdrawn)- Very sneakily, potentially even more than John Turturro, Steele has reeled off three T20s in his past four starts. His course history laughs in the face of his inclusion (MC/MC), but course history isn't everything. His hot recent form deserves more weight, as does his ability to elevate his putting stroke on Bermudagrass greens. Steele's one of the top iron players in the field (46th SG: APP overall), dominates greens in regulation (20th), and is quietly one of the best sand players with a TOUR card (15th), something which should come in handy with 94 bunkers spread across the layout.
Replacement: Daniel Berger
Tim Wilkinson – Who is Tim Wilkinson, you ask? He's a journeyman New Zealander who has been one of the most consistent players on TOUR since March. He's made six straight cuts, mainly, by sitting Top 10 in both Par 4 (5th) and Par 3 (4th) scoring. His lack of length proves to be rather detrimental on Par 5s (161st), so it's not surprising to see his strokes gained number flip from a negative to a positive on Par 70s (0.281 SG:Par 70)
The Pat Mayo Hour covers the entire scope of the Fantasy sports landscape from Football to Reality TV, daily and yearly leagues and everything in between. You can watch the Pat Mayo Hour every weekday at 3:00pm EST, 8:00pm EST and Midnight on the FNTSY Sports Network Television channel or on your Apple TV, Xbox, Roku or Amazon Fire Stick. If you have a Fantasy question, general inquiry or snarky comment, ship it to Mayo at PatMayoHour@gmail.com and the best will be addressed on the show